Mercury Outboard Internal Engine Harnesses
PLEASE PAY ATTENTIon: 1 out of 2 people buy the wrong harness. Internal harnesses are about 18 inches long.
The internal harnesses go INSIDE the Engine Cover.
Mercury outboard boat harness (external) is at bottom of this chart. That is the harness that goes from the engine to the control box by the steering wheel. The EXTERNAL harnesses are about 20 feet long.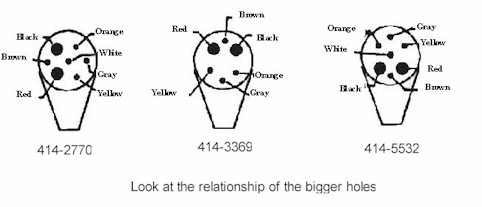 What this is diagram trying to show you:
all the harnesses orientate themselves the same way if you look at the big pins on the outside. What the v at the bottom of each drawing is showing is what direction the harness turns inside the motor in relationship to the two big terminals. Look at your big plugs and then see if the harness goes up, towards the front, towards or the back of the motor. 2770 heads the wires up. 3369 turns to the back and 5532 turns to the front, inside the motor.